Kesa Sewing Weekend 2-3 October
One of the traditional practices of Soto Zen Buddhism is the sewing of the kesa, a garment identical to the one worn by Shakyamuni Buddha 2500 years ago. He had gathered pieces of cloth from various sources to form a long robe and cover his body. This tradition has been passed down from master to disciple through the ages in a spirit of simplicity and deep faith.
The kesa exists in a smaller version, the rakusu: worn on a daily basis, it reminds the practitioner of his or her commitment to the Zen path. 
During the sewing weekends, everybody has the possibility to learn the rules for assembling these garments, to discover a peaceful and concentrated form of work and to develop qualities of patience and perseverance. Each stitch like a grain of rice, the work like a rice field, and the teaching of the monks and nuns like the water irrigating the whole.
The necessary materials will be at your disposal: black cloth, needles, thread, silk, etc.
The workshop will take place 2-3 October. Arrival will be on friday evening (dinner at 20h30). Departure will be after lunch on the last day.
All health security rules are in place at Ryumonji. They will be communicated to you upon arrival. We ask for a personal commitment to respect them. This is to take care of our health as well as that of others. Please bring a negative PCR or antigenic test less than 48 hours old. Those with a complete vaccination can also bring a certificate of vaccination.
Image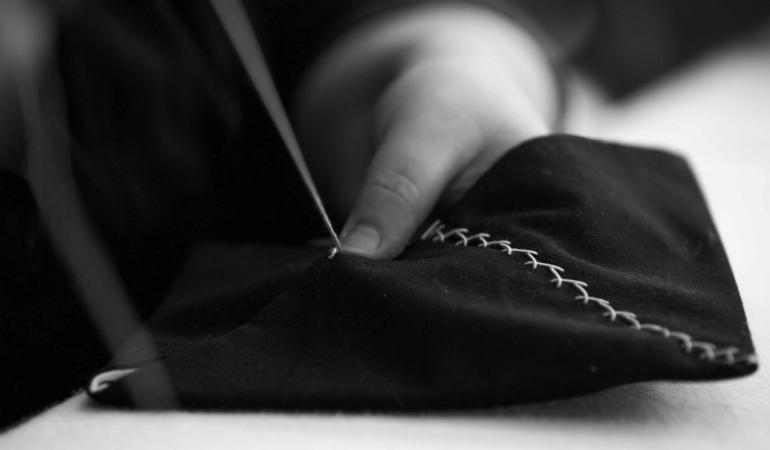 The sewing teacher during this weekend - Zen nun Anette Seigyo Beck - has deeply studied the sewing of the kesa. She received this teaching from older monks and nuns who guided her so that she can now pass it on herself. 
RATES
(Teaching, accommodation and meals included)
Full retreat: 132 € / 80 € (for students and job seekers) 
Bed sheet rental: 6 €
To participate in the activities of the monastery, you must be a member of the Association of the Zen Temple of Weiterswiller. Annual fee: 15 €. 
 
(via mail to info@mediation-zen.org)
To bring
For meditation (zazen): kimono OR comfortable, dark clothing for practice. If you have a zafu (black or brown meditation cushion), you can bring it. 
For meals: bowl + spoon + fork + a large dark napkin to wrap the bowl + a small white handkerchief-type napkin
For the beds: single duvet cover + single fitted sheet + pillowcase - Sleeping bags not allowed. 
For everyday use: shoes and work clothes, sandals or flip-flops (to be removed easily), slippers for indoors 
Possibility to borrow some items on site. 
Note: mobile phones must be completely switched off throughout the monastery in order to maintain a quiet atmosphere. Possibility to make phone calls in the car parks.
Access
By train
If you need to arrive at Ingwiller station, please coordinate your arrival with the secretariat.