Ryumon Ji Monastery : Dragon Gate temple of the Ancient Mountain
Situated betwen a vast forest of several thousand acres and the small village of Weiterswiller (50 km north of Strasbourg), Ryumon Ji Monastery consists of several buildings at the centre of which lies the Buddhist chapel. There is also a vegetable garden, a flower garden, a garden of medicinal herbs, and a rock garden.
Ryumon Ji Monastery was founded in 1999 by Master Reigen Wang-Genh by virtue of much support and donations made by several practitioners in Alsace and southern Germany. Since that time, nuns, monks, and lay people have visited and stayed at Ryumon Ji to follow a monastic life in accord with the regulations of soto zen.
The Monastery is managed by Master Reigen Wang-Genh who has been practicing zen Buddhism since 1973, when he was a diciple of Master Taisen Deshimaru.
Ryumon Ji is officially recognized by the highest authorities in the school of Soto Zen as a centre of Buddhist teaching and practice.
Important : The temple welcomes an equal number of French and German participants. Both language are regularly spoken, and the teachings are translated.
Download the BROCHURE 2016 ! (French)
Regional TV news on Channel France 3 Alsace on monastery
Directions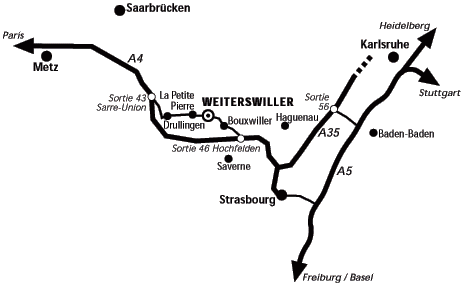 By Car (from Strasbourg)
When you arrive in Weiterswiller, follow the main road. After the restaurant "Les Trois Roses", take the first left onto the "Rue des Roses". Follow this road for 500 meters, the temple is the last house on the left.
By Train
Take the train to Inwiller. Ensure that you confirm your arrival with the monastery´s administrator.
Contacts
Ryumon Ji Monastery
7, rue du château d'eau
67340 Weiterswiller - Alsace - FRANCE
Facebook : "Zen Temple Kosanryumonji"
Bilingual page French-German.
Professional Network Zing ( en Allemand)
https://www.xing.com/go/group/67635.44fcfa/57358
To join the community « zen at work ».