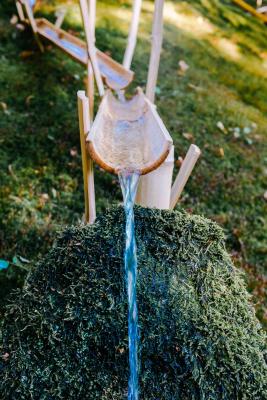 Centre de bouddhisme zen
21, rue des Magasins
67000 Strasbourg
Tél 03 88 75 06 50
zenstrasbourg@meditation-zen.org
The Strasbourg zen buddhist centre exists since 1970. It was founded by Taisen Deshimaru (1913-1980) who introduced the practice of zen buddhisme to Europe. The spiritual leader of the centre is one of his disciples, Olivier Reigen Wang-Genh, who received Dharma transmission from the japanese master Dosho Saikawa. Since 2007 Olivier Reigen Wang-Genh is the President of the Union Bouddhiste de France. He is also one of those responsible for education for the A.Z.I. (Association Zen Internationale) and the zen temple "La Gendronière". He is the abbot of the temple Ryumon Ji, a bouddhist monastery in Weiterswiller, near La Petite Pierre, France.
The monks and nuns of the Strasbourg dojo will be happy to welcome for you if you require more information or wish to experience zazen, sitting meditation.
---
---
For further information please contact the secretariat during the opening hours of the shopm wednesdays and fridays from 2pm to 6:45pm and saturdays 2pm to 5:30pm or by email zenstrasbourg@meditation-zen.org
---
NEW!
Several times a month Master Wang-Genh will give a talk " A zen view of the basic teachings of buddhisme " These talks are open to all. They are available on youtube. More information here
---
For beginners
Every tuesday evening there is an Introduction to the zen practice - from 6:15pm to 8:30pm. It is not necessary to register in advance. These sessions continue during school holidays.
---
---
Zazen sessions ( zen meditation) :
tuesday
wednesday
thursday
friday
saturday
sunday
6h45
6h45
6h45
6h45
6h45
8h30
18h15 beginners session
19h15 zazen
19h15
19h15
18h00
IMPORTANT
Bank holidays: Morning sessions, normally at 6:45am take place at 9am. Other sessions are as usual.
Arrival: Please be at the dojo about 15 minutes before the start of the session.
---
---
COSTS
Per session normal price : 7 euros, reduced rate (student, unemployed) : 5 euros.
Per month normal price : 35 euros, reduced rate : 28 euros.
The zen buddhist centre is a registered non profit organisation. The charge for the sessions is used to pay the rent for the dojo.
---
---
Meditation for all 12h30 to 13h30
| | |
| --- | --- |
| monday | friday |
| 12h30 | 12h30 |
NB : sessions do not take place on bank holidays
---
---
ACCESS PLAN